Art Launched to the International Space Station (ISS)
Launching aboard NASA's SpaceX CRS-27 Cargo Mission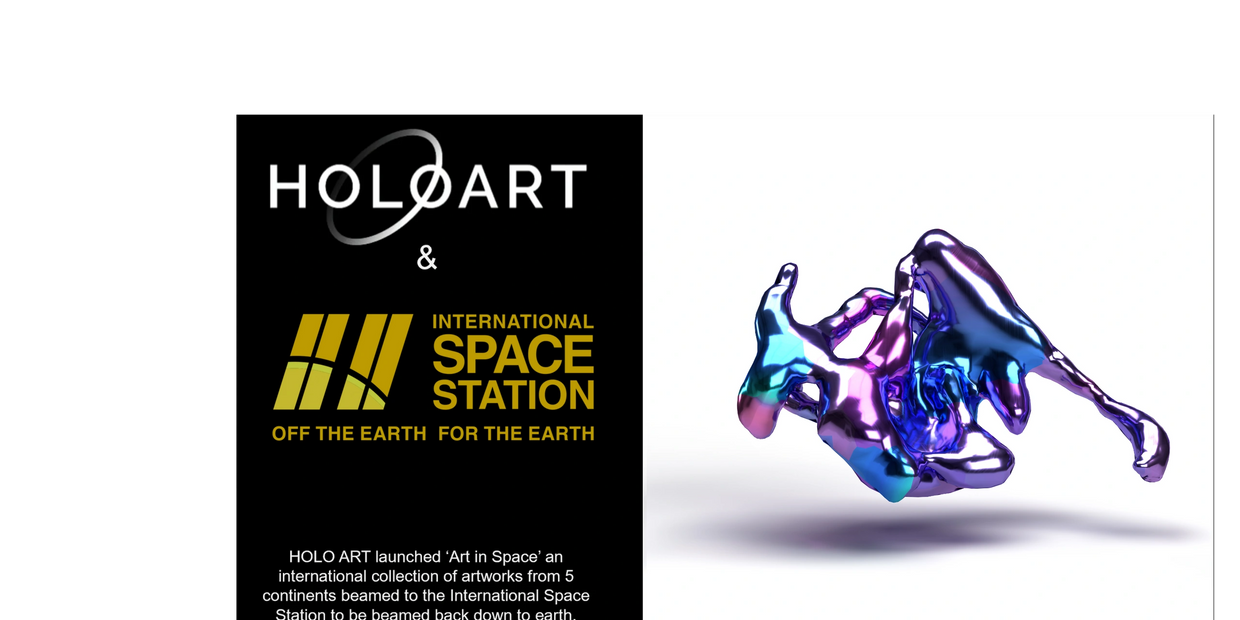 The Map Womam Exhibition
6-8 March 2023. London
International Woman's Day WOM Collective exhibition.
Curated by Damitta & Maria Linares Freire
https://www.revuerevolution.com/wom-art-female-artists-womans-day-2023
https://www.thearttalk.com/events
50/50 Exhibition. Leake Street Galleries
"I Don't Know What you See", a photography exhibition organised by IMPREINT, from the 15th October 2022. I will be showing my work "Vectors in Nature"
Thrilled to been awarded with the International Prize Paris 2022. From 21st-23rd October in Paris. "Axis Mundi" will be exhibit in the "Art Shopping Carrousel du Louvre" and the award ceremony will be hosted in Marais, Paris.
IMPREINT Artist Collective Exhibition at IMPREINT Space. London
Quality Art Foundation Finalist Exhibition with "Utopia-New Earth" and "Faraway Temple".
From 24th August-5 June 2022. Kings Road. London.
The Cult House Pop Up Store. From 7-11 June 2022. Arts, Design and Unique live Performances in the beautiful heart of Mayfair. London.
Featured in the Artist Directory of the amazing
Aesthetica Magazine June/July issue 107.
Around The World in 80 Artist Exhibition by UK Collaboration Group.
An immersive art experience with fine arts, street art, music and other performances.
The Butterfly Effect online Exhibition by Contemporary Art Curator Magazine.
https://www.contemporaryartcuratormagazine.com/online-exhibition-butterfly-effect/maria-linares-freire?rq=Maria%20%20Linares%20Freire
I have been included in the amazing edition about LOVE from Art Talks Magazine.
It has been a dream to receive the International Prize Leonardo da Vinci, for whom and what it represents. Another amazing achievement for my career.
I have to proudly announce my new role as Editor in Chief and Artist in Residence for the wonderful Polymath magazine Revuerevolution. Looking forward to a future of multidisciplinary arts.
https://www.revuerevolution.com/en/masthead#MARIALINARESFREIRE
Exhibition with the Virtual Artist Asociation, a metaverse gallery space.
https://www.virtualartists.co.uk/events/the-winter-art-festival
So excited to present my first solo pop up exhibition in a stunning space, The Glass House in Parsons Green. It's real magical to be able to show my art in the area that has been my creative environment for 20 years.
Goddesses of the Future merges two worlds, both the physical and the digital, creating an unique and immersive show that creates an awareness for the future, fostering new and impactful conversations regarding how we connect with current environments and with each other.How do you envision the Goddess figures in 300 years?
We find ourselves in a space and time where digital seems to be our definite future; are NFT's just a momentary fad or are they here for the long run?ABOUT @womcollectiveWom is a grassroots collective of London based female street artists passionate about inspiring and empowering each other and our communities. Wom create a space and opportunities for artists to perform, exhibit and sell their artwork. This collective is dedicated to empowering HER-story through creative expression, bringing opportunities for meaningful human connection, joy and positivity. (www.womcollective.org)WOM Collective:
@carleendesozer
@elnoart
@real_lours @lespleenart @apparan @marialinaresfreire
@levinaidumitchell
@mar.y.mar.y.an @vanemg.art @7th_pencil @dmtart @sweetheartstreetartAQUAE WOM is a transformative virtual reality experience, inspired by historical real world spring temple sites, designed as an infinite space for reflection.Virtual Exhibition Design and Build: Typeone.orgWe made our WOM: Goddess exhibition, accessible to everyone via the #Metaverse.
If you can't make it IRL, check out our #VR experience in collaboration with @typeone here:
http://www.artsect.xyz
The Circle Fundation of the Arts has awarded my work "Eden" with a Certificate of Excellence.
The Center For Global Arts & Dave Scott have selected me among the 10 most impressive artists right now.
Goddesses Art Magazine featuring my work and thoughts.
https://www.goddessartsmag.com/post/enriched-by-the-magic-of-geometry
I have just received the "Power of Creativity Award" by Contemporary Art Curator Magazine.
I have been published together with selection of other visionary contemporary artist on this beautiful book by Contemporary Art Curator Magazine. You can find it on Amazon, Barnes & Noble and thousands of retailers around the world.
I had the honour to participate in the amazing Art Talks on Angle hosted by Carolina Conforti and Francois Renet.
New online Exhibition with Contemporary Art Curator Magazine "River of Dreams" from 14 June to 14 October 2021
The beautiful luxury property magazine has added Linares Freire to their directory. Follow the link below and see my paintings in another way.
https://www.abode2.com/directory/maria-linaresfreire/
Delighted to have received two amazing award, Collector's Vision International Art Award by Contemporary Art Curator Magazine.
Ambassador of Art 2021
I have just received this amazing award for distinguishing myself with my work over the years of my career as an artist
Winner of the Artistic Excellence Award by Circle Fundation of the Arts.
Winner of "Artist of the Future Award 2020" by Contemporary Art Curator Magazine.
Solo Exhibition. 12th October-8th November 2020. Chopperchunky Virtual Gallery.
More is More Exhibition, 10 September-8 October 2020. Rossocinabro Gallery. Rome, Italy.
Reveries Exhibition, 25 February-1 March 2020. Spacio Gallery. London.
Pop Art Award, 22 November-6 December 2019. M.A.D.S. Milano, Milan, Italy.
Lines and Angles, 16 November. Viva Dalston, Dalston, London.
Art Maze by Exhibit Here, 13-17 November. Bargehouse, Oxo Tower, London.
The Cult House Pop Up shop, 26-31 August 2019. Shepherd's Market, Mayfair, London.
Parallax Contemporary Art Fair, 5-7 July 2019. Kensington Town Hall, London.
Fusion V, International Contemporary Art/Show Exhibition. 27-31 March 2019. Candid Art Trust, London.
Hope. 26 February- 2 March 2019. Menier Gallery, Southwark. London.
Artitecture. 28th November- 5th December 2018. Shoreditch. London
Salon Des Refusès. 7-10 June 2018. Candid Art Trust. Angel. London.
Fusion IV. 24-28 April 2018. Candid Art Trust. London.
Waterloo Arches Mural Commission. December 2017. London.
http://leakestreetarches.london/news-flash-local-graffiti-artists-leave-their-mark-on-the-leake-street-arches-to-celebrate-a-new-pedestrian-walkway/
Finest Artist at Galleria Pall Mall, 11-16 December 2017. Pall Mall. London.
Made of Colours. 3rd November 2017. Dalston. London.
Tribe17. International Art Festival. 12-15 October 2017. Oxo Tower Wharf. South Bank. London.
Summer Exhibition. 25-29 July2017. Menier Gallery. Southwark. London
WOMAN. 17-23 February 2017. Hamilton House Gallery. Bristol.
The Grid Art Fair. 27-30 October. The Old Truman Brewery. London.
Tribe 16. 30 September-2 October 2016. Ugly Duck. London.
New Artist Fair. 9-11 September 2016. Old Truman Brewery. London.
Summer Exhibition, 19-23 July. Menier Gallery. London.
Art Lover Ground Anniversary Exhibition 20 May 2016. Shoreditch, London.
Unleashed Exhibition, 22 March- 2 April 2016. Menier Gallery, Southwark, London.
March 2016. I was selected to be part of Art Lover Ground.
October 2015. And the most impossible happened, one of my artworks "The Effect of the Fullest Moon on the Open Sea" was selected by NASA to be bounced of the Moon during theIOMN 2015.
http://www.observethemoonnight.org/
July 2015. I was selected by Chrom-Art to participate in their alternative art festival TRIBE15. I was delighted to share the experience with an amazingly talented group of professionals. Javier Melian and his team launched my career as a commercial artist and encouraged me to share my work with the